the good, the bad, and the ugly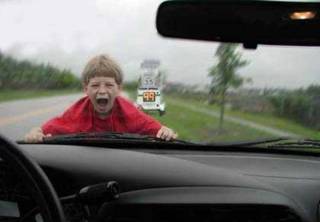 There's this cat that put together a website on the Internet a while back that details the crazy shit his ex girl friend pulled after he broke it off with her. The site was called "psycho ex girl friend dot com", I think it's gone from the web now but after checking it out I'm here to tell you it ain't shit. It seems that all this guy had to deal with was her calling his answering machine and bitching and shit, big fuckin deal. How bout dealing with the chick face to face with nowhere to run? That'll dump pee on yoour parade. It wasn't shit compared to this chick I met back in the day that turned out crazier then an ass raped ape. Who knew this chick was screwy from the get-go? I had a night off from bouncing one night and I'm hanging out in this blues bar minding my own fucking business when this chick runs up on me. She looked normal enough, had a real sweet face, kind of like the librarian next door except for the giant ass rack sitting under her neck. Here's the first clue that I knew something wasn't right, she runs up to me and grabs me by the face screaming;
"pretty man, pretty man, what a pretty, pretty black man"
Number one, I'm not pretty and that alone should have sent the red flags aflyin. But what the hell eh, we had a few laughs and drinks, I eyeballed her tits for a bit then I left, never thinking I'd see her again. The next night she shows back up and does the crazy bitch thing; "You must'a lost my number, that's why you didn't call huh?" What number? My dumb young ass still didn't see the writing on the wall, probably because her giant rack was in the way. She asks me to go for a ride with her and she even lets me drive her new car, after a bit we end clear out in another part of town. We pull up to this huge house and inside we go, the house is packed full of paintings and art and all kinds of cool shit. She drags me into this bedroom and tells me to lie down on the bed, and as I lay there she undresses me then covers my ass up with a sheet and slides next to me and starts talking. She tells me how much she loves me and that I'm the right man for her and she's been waiting all her life to meet me. And all the while she's dry humping the fuck out'a the sheets next to me. Every time I reach for her she moves away and tells me how much she loves me. Oh by the way, it's not her house, she's just house sitting. I freak out when she tells me this and after grabing my shit and calling a cab I get the fuck back to Midtown. The next few days I don't hear from her and I start to think she's gone. My luck huh? She shows at the bar a few nights later with a briefcase, she sits down next to me and tells me again how much I mean to her. I'm sitting telling myself that she's long gone around the corner and the lights are on but nobodies home whilst trying not to stare at her tits when out of the case she pulls these big legal lookin documents. She's buying me a house.
She's buying me a fuckin house?
My name's on the deed and all that plus she shows me how much money she has in the bank and the net value of all the rare art she has sitting in some warehouse across town. There was only one clause before I could call all this shit mine. I have to let her live in the house with me and let her dress me and shit as she saw fit. Well I gotta tell ya, I stared at her, I stared at the deed, I stared at the bank books and I stared at her tits. Then I told her no deal and had the bouncers throw her out. Hey I just look stupid but I'm not stupid.
For the next month every where I went there she was, watching me. The chick would just show up at the job or the bar I was bouncing at and tell me how much she loved me and that we needed to be together. Hell, one night I got so tired of her shit that I even took her to a local city park at two in the morning so as to lose her thinking that maybe she'd get the message loud and clear. I walked her into the darkest part of the park then turned right whilst she turned left and split. But the next day there she was looking at me and waving like nothing happened. "You must'a lost me last night in the park, I bet you looked for me all night long". What a freak. This got so old, if I looked outside a window you can be sure there she was lookin in. This went on for some while then she just stopped coming around. I figured she must'a scammed onto some other dumbass. About a year later I was at some store up on Main after all the bars had closed when I heard this commotion nearby in the parking lot. It was her in a night gown getting kicked out of this car. She spots me and starts crying. I couldn't leave her there like that and told her to get in my car. She looked like shit and all her clothes were in this old trash bag. She told me about getting raped by a bunch of guys the other night and would I help her do something about it. I looked at her and felt so sad for her; I didn't want anything to do with her but on the same hand I sure in the hell couldn't leave her in the parking lot crying.
I offered to take her to a police station so that she could turn in a report and I'd help her get to her family's place. But she kept telling me that the guys were pretty nice and didn't realize what they were doing and that she didn't want to get em into trouble. I argued with her till I was blue in the face but no good. She wouldn't drop a dime on em. I was heart broken; I had to tell her I couldn't do her any good. If she didn't want to help herself how could I even help her? I left her at her mother's. I haven't seen her in years.
"and the monkey flipped the switch"