let's all go to the lobby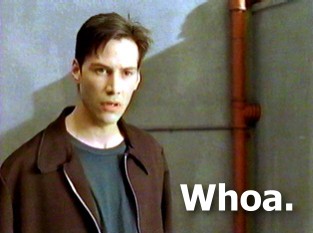 dude, can I have one of your hotdogs?
There's been a lot in the media lately about the downfall of the movie going experience. Box office receipts are down and more and more people are opting to stay home and catch a movie wither it be on cable or thru rentals. And again, like with everything else, people are over thinking shit as to why this is. Now I don't know about your average Joe, but when it comes to seeing movies at my local multiplex, I view it as a personal treat. Sometimes all it takes to ease a cat out is a big bag of buttered popcorn and a couple of hotdogs. And if the movie's good I just see that as an added plus.

But before I go on, let me describe my average movie going experience. I just can't up and decide that I'm gonna see a movie, mainly due to the fact that the only time I'll go see a movie is during matinee hours. See, I hate crowds, I dislike being around people's loud-ass kids, and did I say I hated crowds? So unless I make that decision in the first few hours after waking up, it ain't gonna happen. Ok, I make up my mind to go see a matinee and off I trudge to my favorite theater where I insist on being there at least one half hour or more before the movie begins. I mean c'mon, nothing fucks up the whole experience for me more then being late or rushed.

Anyway, I pay for the ticket, which at matinee prices is maybe four or five bucks here in beautiful Kansas City. After that I head to the concession stand where I'll usually get the same thing every time, large buttered popcorn, two hotdogs (plain), and a large Coke. Let's see….carry the one and add the two…….ok, so far my movie going experience has hit me up for about twenty bucks, which I fully expected. When it comes to concessions they do bend muthafucker's over and ground it in, don't they? You figure a family of four going to see a movie during peak times after tickets and munchies is gonna be out a C-note at least, right? Hmmm, that might keep people at home on the couch wouldn't it?

Moving on, I find my seat, which means that I'll that big dark blot sitting at the very rear of the theater dead center in the last row munching popcorn. Also the good thing about matinee movies is if I'm lucky, I'll be one of maybe half a dozen people in the whole place, which to me rocks. I'm all set with my hotdogs and popcorn and coke sitting in my plush reclining seat when the lights dim. Oh, some of you older reader's will be glad to know that I better about the lights dimming and shit. I used to get so freaked out when the lights dimmed due to the fact that the first thought in my head was that I was dying or some such shit. "Oh my god, am I dying, everything's getting dark"? "Whew, just them turning down the lights".

Anyhow, now if you were to ask me, what comes next is the part that makes me want to stay home and rent some shit. I'm talking about all the cocksuckin commercials they insist on showing. I watch commercials at home and put up with em, but I do not want to see em at the theater especially after I've paid to be in this muthafucker. I find them very intrusive and somewhat degrading that folks are made to sit thru the same shit they can see at home like a bunch of fuckin cows at slaughter. It's like trying to censorship cable. We pay for cable and out of the ass for it I might add, so why try to tell us what we can and can't see?

The same applies to movie theaters, if we're paying to see the goddamned movie and pay for the fuckin food; we shouldn't have to suffer the fuckin indignities of some asshole trolling the virtues of some herpes cream. That is most likely one of the main reasons people are staying away from the box office. People are like me, when they go to the movies they want to enjoy the experience. We'll suffer the high ticket prices. We'll suffer the overpriced concessions, the crowds, rude people and bad kids. We'll even deal with sitting through a bad movie as long as we get to enjoy the experience. But sometimes enough is enough and the stinkin commercials just might have been the straw that broke the camel's back. I'm just sayin and shit.
"and the monkey flipped the switch"