Mommy, where did I get this scar from?
A woman in Mexico gave birth to a healthy baby boy after performing a Caesarean section on herself with a kitchen knife, doctors said Tuesday. The unidentified 40-year-old woman, who lived in a rural area without electricity, running water or sanitation and was an eight-hour drive from the nearest hospital, performed the operation when she could not deliver the baby naturally. "She took three small glasses of hard liquor and, using a kitchen knife, sliced her abdomen in three attempts ... and delivered a male infant that breathed immediately and cried," Before losing consciousness, the woman told one of her children to call a local nurse for help. After the nurse stitched the wound with a sewing needle and cotton thread, the mother and baby were transferred and treated at the nearest hospital.

Goddamn! Can you imagine having a mother this fuckin tough?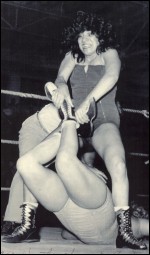 "You son-of-a-bitch, to think I cut you out of my swollen belly with a rusty bread knife to give you life! You better get outside and cut that grass right now, you ungrateful little bastard"! "But Ma, it's too hot and all my friends are swimming in the river"! "Three shots! Three shots you hear! I didn't have no cool river to lay in when you were born. Three shots of Old Gringo and a dirty floor to lie on when I slit my fuckin belly open to bring your stupid ass into the world! Now go cut the grass"!

and the monkey flipped the switch